Er Rajan C Mathew FIE : Favorite Websites and Links
May I suggest you some useful internet sites ?
In this page I would like to provide some important and useful internet website information. Hyper-links to those sites are also provided so that you may get away from my boring (?) site quickly.
Click on the image on the right to visit my site on the issue of fighting corruption in India.
This is a very useful site where you can get very useful information on the history , culture, geography, music, travel, maps, jobs, books, news, weather, links, movies, classified advertizements, penpals, astrology, numerology and more related to my beautiful and incredible country-India.
You will also get important links to official websites of government tourism departments here. There are many more such things about India which could be of interest to both Indians and non-Indians.
As far as I consider it, the English Language Weekly News Magacine-Outlook- is one of the best published in India having a fairly wide readership among educated Indians. The online version of Outlook is also popular and has a good reputation for its fairly impartial coverage of contemporary issues concerning India and Indians. In this online version you could even refer to the archived issues and articles. It also provides a bloggers platform to vent out opinions and criticisms.
The best, comprehensive and growing treasure of knowledge without any strings attached, is probably, wikipedia, the fast growing online encyclopedia in the world . You should use it to believe it. Anything you wanted to know from religion to science, philosophy to occult, politics to sex are covered in its fullest manner. There is no chance that you are disappointed for information. The plus side is that you yourself can transform to be a contributor of articles for the benefit of others. It is also growing in all important languages of the world.
My online buying experience with this India oriented site has been good. It is without much hazzles. I find their service reasonably good. I got my copy of my favorite book-THE URANTIA BOOK- fetched from the USA and delivered at my home in a month's time through this site. You can get almost every thing here which otherwise would be difficult to source in India. Payments can be made through internet banking or through credit cards.
This is the site where you can read the marvellous modern day revelation made available to human beings by super-human, invisible celestial hosts. This is 'the Urantia Book' or TUB which came into my life recently. I frequently use this site to read this great revelation online. You can also listen to this book as read in English, if you so desire. Besides there are many other features in this site which help one to understand and study this book. It is a treasure of spiritual knowledge. http://www.urantia.org is another site where you can read and know more about the Urantia Book.
This is for all those concerned with Indian travel planning, online. Here you can find availability of hotel accommodations, air line seat availabilities and such valuable information required for travel in India. You can also book hotel accommodation and airline tickets through this site, very efficiently and make the payments. This site is quite popular in this context equally useful as www.yatra.com which also does the same job.
This is a site for those interested in buying and selling real estate property in Indian cities. Information on properties, rentals, developers, bank loans, etc are available here. For those interested in knowing share and mutual fund prices or Net Asset Values of Indian companies and Mutual Funds, www.moneycontrol.com would be of great use.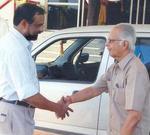 Search Engines
One of the best internet search engines. For example, if you want to know about me, just type "Rajan C Mathew" in Google's search box and click 'Go'.
One of the most visited hubs on the Internet, reaching one out of every two Web users.
With over half a million sites, divided into more than 25,000 categories, Yahoo! is both browseable and searchable.
GO Network is a new brand that brings together the very best of the Internet in one, easy-to-use place.
Hope you find these websites and the links useful. Your feedbacks, suggestions on e-mail are welcome. To contact me click on to 'Contact Me' page link at the bottom of the left side column. Rajan C Mathew's Blogs Rajan C Mathew's Tweets